Holiday Clubs in Guildford
Published:
Categories
Here is round-up of holiday clubs in and around Guildford offering fun and educational activities for children throughout the summer holidays.
Apart from easing childcare headaches for working parents, many of these clubs have been created with learning and development in mind, offering life skills, training and confidence-building, letting kids come away with new skills learnt in a safe, supportive environment.
Holiday Clubs in and around Guildford
---
awe:STEM Summer Holiday Club
Where: Christ's College, Guildford
Ages: 5-7 and 7-12 yr olds (wrap around care available)
Dates: 24 Jul - 28 Jul and 31 Jul - 04 Aug
A whole day dedicated to science experiments! Each day is filled with exciting STEM learning, set in a dynamic and collaborative environment and not all of them need screen-time! No two days are the same, you can drop your child off with a peace of mind in a safe and secure environment that boosts children's creativity and confidence.
An exciting STEM week that gives children an opportunity to experience a variety of technology, programming, engineering and scientific design challenges like coding, robotics, virtual reality and many more. Get in touch to book independent days. We accept childcare vouchers.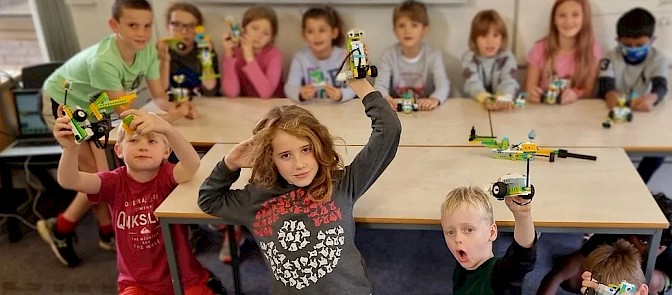 ---
Seren Super Camps by Seren Kids
Where: Rydes Hill Prep, Guildford
Ages: 5 - 12 years
Seren Super Camps by Seren Kids is a 5 star exciting and innovative holiday camp provision for all children Aged Year 1 up to Year 7 (5/6-12 years) running at Rydes Hill Prep in Guildford! Children get a fun mix of sports, filming, podcasting, editing, robots, coding, gardening, art and so much more! It is led by highly qualified staff and ofsted registered so they can accept Childcare vouchers/grants etc. PLUS if you book for summer dates by 3rd July your children will get free nutritious hot meals and fruit and veg snacks at camp! To book: www.serenkids.com or email: hannah@serenkids.com
Prices Start at £40 a day or £170 for a Full week. There is automatic 10% sibling discount.
If you refer a friend you can email hannah@serenkids.com and you and your friend get a further £10 discount from these prices!
You can check their social medias out too:
Instagram: @theserenkids | Facebook: @theserenkids | Twitter: @Serenkids | Tiktok: @serenkids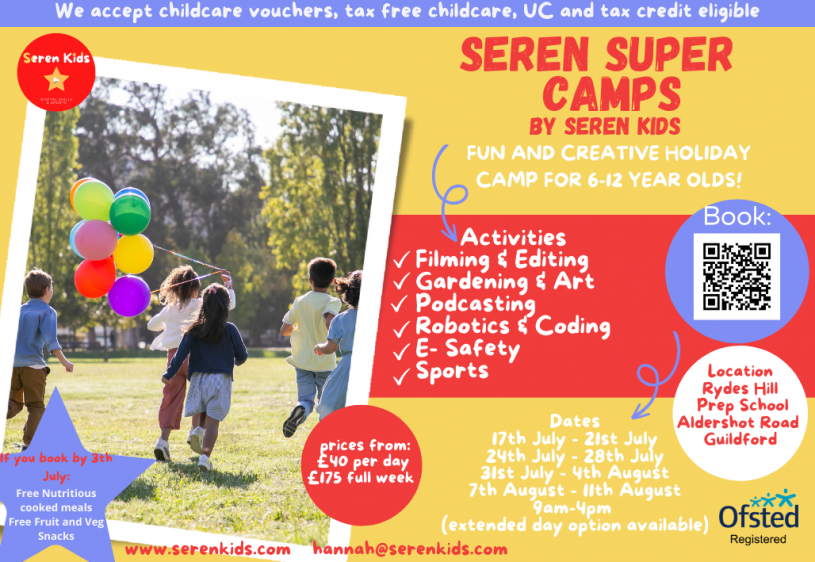 ---
Flair Gymnastics Tumble Camps & Trampolining Masterclasses
Don't miss the ultimate Gymnastics Camp and Trampolining Masterclasses. Flair Gymnastics have 2 action packed weeks of gymnastics, trampolining and acro this Summer. All abilities welcome. Build your child's confidence whilst having heaps of FUN!
TUMBLE CAMP
DATES: WEEK 1 24th - 28th July | WEEK 2 28th Aug - 1st Sept
TIMES: 9am - 1pm
AGE: 4-17yrs
LOCATION: Guildford Spectrum
OFFER: Buy 4 days, get 1 DAY FREE!
BOOK > www.gymnasticscamp.co.uk
TRAMPOLINING MASTERCLASS
DATES: WEEK 1 24th - 28th July | WEEK 2 28th Aug - 1st Sept
TIMES: 2pm - 3.30pm
AGE: 5-17yrs
LOCATION: Guildford Spectrum
BOOK > www.gymnasticscamp.co.uk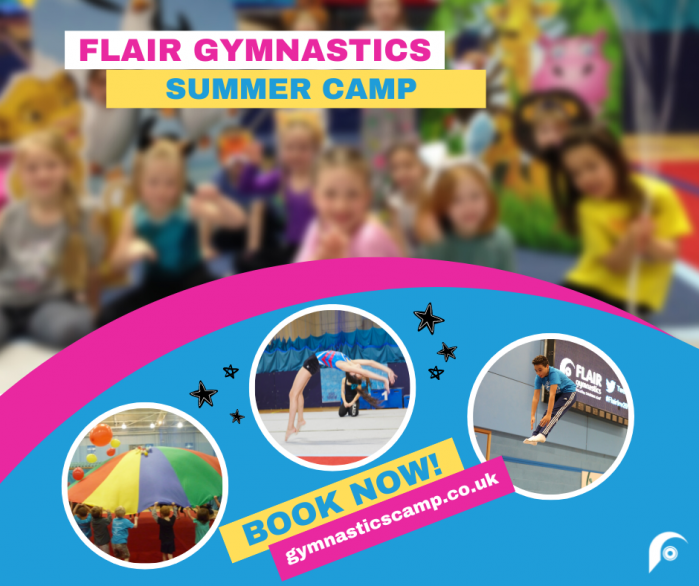 ---
Ultimate Activity Camps
Get set for fresh air, fun and friends! Ultimate Activity Camps provide outstanding Ofsted-registered (& Covid-Safe!) activity day camps for children aged 4-14 during the school holidays, where the children's welfare and fun are at the heart of all they do! Children will enjoy a fantastic range of over 40 sports, games and art activities every week, led by engaging staff at amazing locations. Visit their website for dates, prices and activities!
Times: from 8:30am – 5:15pm, Extended Days 8:00am – 6pm
Age range: 4-14 years
Location: Various
Check availability and book here.
Check out a Video of the camp here
Email: help@ultimateactivity.co.uk
Tel: 0330 111 7077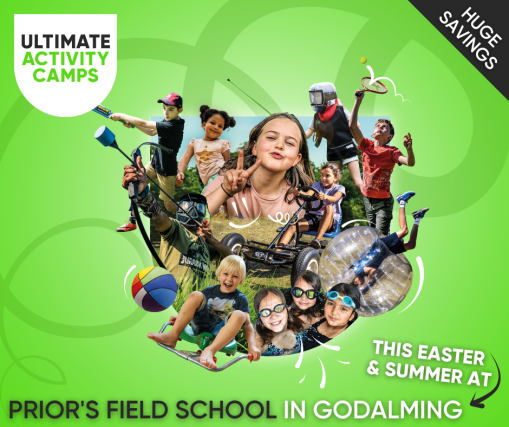 ---
Stagecoach Godalming
Where: St Catherine's School, Bramley
Ages: 4 – 186years
Discover the magic of theatre and friendship, with a fabulous week filled with dancing, singing and acting. Workshops are split into two age groups, 4-6 years and 6-16 years. Spaces are limited.
---
KOOSA Kids Holiday Club
Where:

St. Joseph's Primary School, Guildford
Busbridge Junior School, Godalming

Ages: 4 – 13 years
KOOSA Kids holiday clubs offer fun, active holiday activities for children aged 4-13, every school holiday. With over 350 activities and a mixture of active & non-active games each day, we cater for all interests. High quality, fun-filled childcare at the lowest possible price.
---
Energy Kidz
Where:

Boxgrove Primary School, Guildford
St Nicolas Infant School, Guildford

Ages: 4 – 11 years
Offering your child a fun filled, action packed school holiday with exciting games and activities, delivered in a safe and supervised environment.
---
Camp Beaumont
Where: RGS, Guildford
Ages: 3 – 14 years
This multi-activity program has over 50 exciting activities for all sporty, creative or imaginative camp-goers! Your child will learn new skills, make new friends and enjoy their most exciting school holiday yet!
---
Xtreme Activate
Where: Spectrum, Guildford
Ages: 5 – 12 years
Children attending Xtreme Activate will take part in activities such as ice skating, bowling, swimming (everyday for children aged 9yrs + and on certain days for children aged 5 - 8 years), track time (weather permitting) and arts and crafts.
---
If you know of a holiday club or activity camp in Guildford that we've not featured here, please get in touch and let us know. Email laura@guildfordrocks.co.uk